Do you have missing invoices in your GSTR 1?
Posted by: Ashwini Gorhe 7 months, 2 weeks ago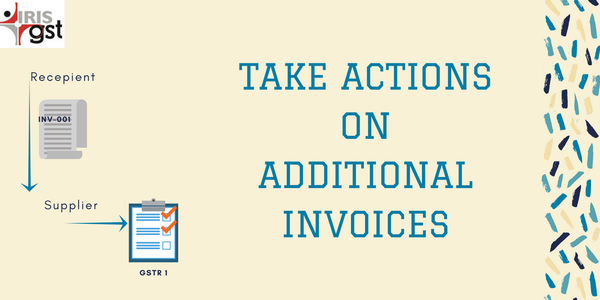 As registered taxpayers, entities need to file various returns based on their nature of business and the type of registration obtained. Returns filing under GST is often perceived as a complicated activity and one of the prime reasons is the interrelationship between and cross-referencing of the data filed by taxpayers in various returns.

The full rollout of GST return filing process was deferred on account of technical reasons and lack of adequate preparedness in the market. As decided in the previous GST Council meeting, the return process will be simplified and more information can be expected in the upcoming GST Council meeting which will be held on 19th July 2018.
 GSTR 1, GSTR 3B, GSTR 4 and GSTR 6 are the returns which cover the majority taxpayers including regular taxpayers, composition dealers and Input Service Distributors. There are some more returns for other taxpayers and specific scenarios.


Interrelationship between GST returns
While all the returns are not implemented, within the returns are active, the details are interlinked. Let us understand in detail the interplay between the information filed by various taxpayers considering
 GSTR 1  - The monthly return (in some cases quarterly) containing the details of outward supplies made during the period. The outward supplies made to registered counterparties i.e. B2B sales are to be reported at invoice level while other categories such as intra-state sales to unregistered parties, nil, exempt etc. are reported as aggregate values.
 GSTR 6 – The monthly return for Input Service Distributors (ISD) consisting of B2B purchases which flow from GSTR 1 of suppliers and distribution of ITC. In case there are some additional invoices uploaded by an ISD in their GSTR 6, these will be shown to the respective supplier in their GSTR 1

When your GSTR 1 can have additional invoices
The filing due date for GSTR 6 has been further extended to 31st July 2018 and the return for the period from July 2017 to June 2018 can be filed by July 31. As a result, some of your counterparties (who are registered as ISDs) could upload additional invoices for any of the previous periods. In this scenario, while filing GSTR 1, you will find additional invoices which you need to consider.
 Your counterparty, who is an ISD, is filing GSTR 6 for July 2017. In the return, Inv-001 is included with your GSTIN.

You have already filed your GSTR 1 for July 2017 and Inv-001 was not included as in B2B category

You are now filing GSTR 1 for June 2018. Inv-001 will be available to you as an additional invoice uploaded by the recipient
Apart from additional invoices, if any invoices are rejected by your counterparty, such invoices will be made available for further actions from your side.


Actionable invoices while filing GSTR 1
 Before filing your GSTR 1, you need to first check if there are any invoices which require action. Once you get the list of such invoice, you can
Accept invoices - This implies that you have accepted the additional invoices or accepted the rejection done by your counterparty

Reject invoices - This implies that you have rejected the additional invoices or rejected the rejection done by your counterparty
 The GSTR 1 return can be submitted and filed only if some action is taken on all the actionable invoices.
It should be noted that the actual tax liability and payment, at present, is completely determined by information filed in GSTR 3B. And the result of these actions will not be reflected be automatically in the already submitted data. Once the full return filing process is enabled and computation of tax liability is done by the GST system, then the actions taken by you will impact the tax liability computation.
 You can check out here how the actionable invoices can be managed in IRIS Sapphire, our integrated offering for GST compliance.
 IRIS is one of the leading GSPs. Our GST compliance solution, IRIS Sapphire, is designed to make your return preparation and filing process easy and efficient. For further details please write to support@irisgst.com or visit our site IRIS GST.