Viewing posts tagged GSTR 6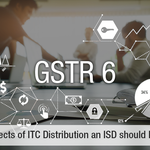 The ISD or Input Service Distributor is responsible to distribute the ITC to its sub-branches for the services utilised by them. However, there are some rules an ISD has to follow, for distribution of the ITC. Here are 5 rules or aspects to be considered by the ISD while ITC distribution.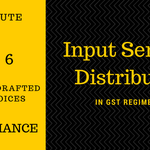 Read more to know how the businesses who have taken registrations as Input Service Distributors (ISD) need to distribute the ITC credit and comply with GSTR 6 requirements.