Viewing posts tagged TDS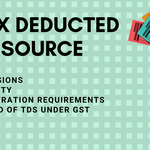 After keeping the TDS provisions in abeyance up until now, the provisions of TDS are effective from 1st Oct 2018. For persons who need to liable TDS, here is a quick overview of the TDS related procedures under GST.
The provisions related to tax deducted at source (TDS), tax collected at source (TCS) and reverse charge mechanism under GST have been deferred for another three months till Sept 30, 2018. Earlier this year in the GST Council meeting, these provisions were deferred till March 31, 2018 and now additional three months extension has been notified.