TDS under GST to be in force from 1st Oct 2018
Posted by: Ashwini Gorhe 3 months, 3 weeks ago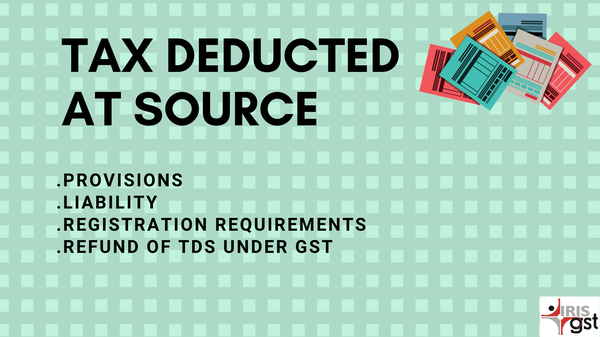 As per the GST law, there are certain categories of persons who are required to deduct taxes while making payments to
supplier
, commonly referred as Tax Deducted at Source (TDS) and deposit it with the Government. After keeping the TDS provisions in abeyance up until now, the provisions of TDS are effective from 1st Oct 2018.
Conceptually, TDS under GST is similar to TDS under
income
tax. For persons who need to liable TDS, here is a quick overview of the TDS related procedures under GST.
1. Applicability of TDS
As per section 51 of CSGT Act, the TDS is to be deducted by the specified persons where the total value of
contract
exceeds Rs. 2.5 lakhs. The total value here is exclusive of taxes.
TDS is to be deducted at the rate of 2
percent
(i.e. 1% CGST and 1% SGST and 2% For IGST) on payments made to the supplier of taxable goods and/or services.
2. Persons liable to deduct TDS
As specified in the GST rules, the following persons are required to responsible for deducting tax-:
• a department or establishment of the Central or State Government
• local authority
• governmental agencies
• An authority or a board or any other body which has been set up by Parliament or a State Legislature or by a government, with 51% equity (control) owned by the government.
• A society established by the Central or any State Government or a Local Authority and the society is registered under the Societies Registration Act, 1860.
• Public sector undertakings.
• Any such persons or category of persons as may be notified, by the Central or a State Government on the recommendations of the Council.
3. Registration requirements for TDS deductors
Persons who are liable to deduct TDS, need to get a separate registration for this purpose. The TDS registration under GST is based on the existing Tax Deduction and Collection Account Number (TAN) issued under the Income Tax Act of the said person. Thus unless you have TAN, you cannot opt for GST registration for TDS.
It should be noted that for persons who already have regular GST registration, TDS will be an additional registration for them if applicable. In such cases, due care should be taken that appropriate GSTIN
are
used while generating and reporting supply invoices and while deducting TDS.
4. Deducting and Reporting of TDS
The rate of TDS is 2% and it needs to be deposited as per guidelines provided in
circular 65
.
A TDS certificate i.e. GSTR 7A needs to be issued within 5 days of depositing the tax to the government. In event of failure,
late
fee of Rs. 100 per day up to a maximum of Rs. 5000 will be charged.
TDS Return i.e. GSTR 7 is to be filed within 10 days from the end of the month.
5. Exceptions for TDS deduction
There are certain cases where TDS is not to be deducted. Transactions when the location of
supplier
and place of supply is different from the State of the registration of the recipient, the provisions of TDS do not apply.
Sr. No.
Supplier State
Receiver State
Place of Supply
Condition Satisfied
Transaction Type
TDS to be Deducted
1
Maharashtra
Maharashtra
Maharashtra
Yes
Intra-State
1% CGST
1% SGST
2
Maharashtra
Delhi
Delhi
Yes
Inter-State
2% IGST
3
Maharashtra
Delhi
Maharashtra
No
Intra-State
No TDS
4
Maharashtra
Maharashtra
Delhi
No
Inter-State
No TDS
6. Refund of TDS possible under GST
If any excess amount is deducted and paid to the government, a refund can be claimed by
deductor
. But there is one condition for
refund
. The said deposited TDS cannot claim by the deductor if it is already added by
government
to the electronic cash ledger of deductee.
So, in this case, the deductee can claim the refund for extra tax deducted subject to refund provisions of the act.
While the above provisions are for persons liable to deduct TDS, if you are the supplier to such persons, keep in view the following points:
1. Be careful about stating the appropriate GSTIN in your supply invoice and while reporting in GSTR 1. This is important in the cases where your recipient beholds both regular and TDS registration.
2. TDS deducted for
you,
will be available as part of auto-drafted GSTR 2A. This TDS you can use to settle the tax liability while filing GSTR 3B.
3. Please ensure to check the details in the TDS certificate and details in GSTR 2A.
The implementation of TDS provisions and the returns on
GST
system is under development. We'll keep you posted about the latest updates.
The standard procedures of TDS
is
available
here
and the relevant notification is available
here
.
IRIS Business is a leading GST Suvidha Provider (GSP) providing easy and efficient solutions for GST (IRIS Sapphire) and E-way bill (IRIS Topaz) compliance. For a demo or to know further details please write to support@irisgst.com or visit our
site
.